This blog originally appeared on SPRU's website and has been reproduced with the permission of the authors.
On Wednesday 14 – Friday 16 June 2023, the Science Policy Research Unit (SPRU) based at the University of Sussex Business School, proudly hosted the European Forum for Studies of Policies for Research and Innovation Conference (Eu-SPRI 2023). Eu-SPRI's annual conference is the European event for scholars and policymakers in the fields of science, technology, and innovation (STI) policy, providing a dynamic platform for exchanging ideas, presenting emerging research, and fostering valuable networks.
Supporting the development of early career researchers in this field is a key part of the Eu-SPRI Forum's work. Prior to the conference on Tuesday 13 June, SPRU hosted the Eu-SPRI Early Career Researcher event in association with the 29th SPRU PhD Forum. Welcoming participants from a diverse range of institutions, this event provided a supportive space for early career researchers to present and discuss their work, hear talks from guest speakers and network in a friendly environment, before continuing to the main conference. 
Research with Impact
The conference's first day began with an opening ceremony chaired by Michael Hopkins, the Chair of the conference's organising committee, with welcome addresses by SPRU's director, Jeremy Hall and Eu-SPRI's president, Emanuela Reale.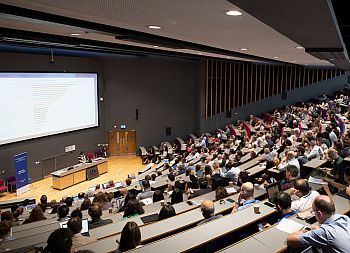 The theme of this year's conference, 'Research with Impact', reflects the increasing focus within STI policy globally on ensuring that researchers engage with wider stakeholders to deliver positive economic impact and address societal challenges. This reflects the growing societal expectations placed on research and innovation, and increased concerns about how well research systems are aligned with the changing needs of society. Demand for research with impact has generated changes in how research is funded, evaluated, organised and disseminated. Eu-SPRI 2023 was a platform for the exploration of these questions amongst international colleagues.
The conference featured 25 Tracks and five Special Sessions organised by scholars in the field, capturing the latest developments in a broad range of science policy related areas. Participants discussed topics such as transformative innovation, sustainability transitions, policy implications and transdisciplinary research.
The first day of the conference featured a captivating keynote speech by Professor Kathryn Oliver from the London School of Hygiene and Tropical Medicine, University of London, entitled 'Feet on the ground and head in the clouds: can we be both pragmatic and ambitious for research with impact?'.
Members of the Eu-SPRI Stakeholder Advisory Board: Philippe Larrue, Christian Naczinsky, and Tatiana Fernandez Sirera, with the participation of Emanuela Reale and Stephanie Daimer, hosted a keynote panel on Day Two, exploring how to promote dialogue with policymakers for the design and implementation of science and innovation policies. The panel, sponsored by RISIS, incorporated open debate and examined the emerging needs and forthcoming actions in this area. 
The third and final day of the conference saw an engaging keynote debate addressing the motion that 'The growing use of evaluation and analysis of impact has gone too far so that it is now damaging research'. The debate speakers were Ben Martin, Professor of Science & Technology Policy Studies at SPRU, and Leonie van Drooge, Owner of LvD Impact & Evaluation, with the debate chaired by Paul Nightingale, SPRU. 
In addition to the varied academic programme, an exciting selection of social activities were available to attendees, adding a touch of excitement and relaxation to the event. On the first day, participants could take flight on the iconic Brighton i360, a breath-taking observation tower offering panoramic views above Brighton seafront, featuring a sky bar. The Brighton i360 social was kindly sponsored by the Technopolis Group. Alternatively, guests could enjoy drinks and nibbles at the Ohso Social Bar, a popular beach bar within the heart of Brighton's vibrant atmosphere, kindly sponsored by RISIS.
Day Two saw delegates attend a Gala dinner at the DoubleTree Hilton Metropole, for a memorable evening of mingling and discussion. The conference's final day closed with farewell drinks at the Grand Central pub in the city centre, featuring live music that had the audience on their feet, singing along. 
Hosting the Eu-SPRI 2023 Conference was an honour for SPRU and the Business School. It was fantastic to welcome so many colleagues to our campus for the largest Eu-SPRI conference yet, and we hope that all participants enjoyed their experience with us!
Congratulations to all dedicated Sussex staff for producing such a successful, well-attended event, with special thanks to the academic organising committee: Professor Michael Hopkins, Professor Paul Nightingale, Dr Adrian Ely, Dr Katherine Lovell, Professor Adrian Smith, Dr Bipashyee Ghosh, Dr Chux Daniels, Dr David Eggleton, Dr Joshua Moon, Dr Matias Ramirez, and Dr Xiangming Tao. 
We would also like to express our gratitude once again to our sponsors for their generous support and contribution to the #EuSPRI23 Conference – our sincere thanks to RISIS, Technopolis Group, Edward Elgar Publishing, and Policy@Sussex. 
The Eu-SPRI 2024 Conference will be hosted by the University of Twente in the Netherlands with the theme 'Governing Technology, Research, and Innovation for Better Worlds'. We look forward to another inspiring gathering of the Eu-SPRI community.